Date of Establishment
The first exhibition was held in Iraq – Basra governorate 1918, agricultural products, industrial handicrafts and animals of horses, cattle were exhibited. In 1957, the first exhibition in Baghdad was held on the current site of the exhibition, which was called the Industrial and Agricultural Exhibition, where national products exhibited and organized by the Baghdad Municipality.
In 1959, the Iraqi Exhibition Authority was established and the exhibition was attached to it under the supervision of the Higher Committee for the July celebrations. The exhibition was called "Exhibition of July 14" under Law No. 20 of 1959 and was linked to Ministry of Economy. It was the real beginning of the Baghdad fair since it became international in 1964. The first session of the Baghdad exhibition , five Arab countries participated on it (Egypt, Jordan, Lebanon, Kuwait, Syria) and 83 companies.
In 1968 the start of development and diversity takes a wide range and took the sessions of the Baghdad International Fair is considered one of the largest international economic and trade events, which led to the accession of the Baghdad International Fair to the Global Association of the Exhibition Industry ( UFI) its headquarters in Paris and it became a member in it, according to the decision of the International Union at its meeting in Malta in 1971 and became a representative of the Arab countries , currently it is a member of the executive office of the Arab Union for International Exhibitions and Conferences, its headquarters in Cairo.
In 1981, (68) countries and (3,200) companies participated, with an increase of 90% in land reservations from the former.
– In 1980 the system of institutions has been abolished and the companies system has been implemented and the name of the fair became ( The State Company for Iraqi Fairs ).
-In 1990, under the war and the economic siege, the company ceased operations until 1992, when only one national session was held.
– In 1994, the regional and international participation in the Baghdad International Fair was renewed. Six Arab countries and 128 companies participated, the company also held two specialized exhibitions and five participations outside Iraq.
– In 2001, the number of specialized exhibitions (19) exhibition and was scheduled to establish (43) exhibition and stopped the activity of the exhibition in 2003 because of the exposure of Iraq at the time.
– External participation was the best in 1981, where the number of external exhibitions were (23) exhibitions.
– 35th Session of the Exhibition in 2002 The number of participating (48) countries , (1179) company and (17) specialized exhibition.
– In 2003, Iraq participated in two exhibitions outside Iraq and then the company's facilities were subjected to sabotage and destruction, which prevented any activity from its activities and its activities were limited to external participation only from 2004 to 2005. The company participated in seven exhibitions outside Iraq.
All departments of the company and 14 halls have been reconstructed , rehabilitated and furnishing from 2005 until September 2011.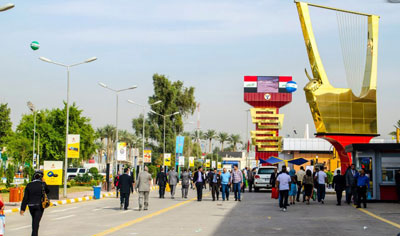 | Number | Hall name | Area |
| --- | --- | --- |
| 1 | Celebrations hall | – |
| 2 | Baghdad | 9703.5 |
| 3 | Naynawa | 1680 |
| 4 | | 1761 |
| 5 | Rafidane | 1830 |
| 6 | Theeqar | 2514.5 |
| 7 | Babil | 1625 |
| 8 | Hamorabi | 1739 |
| 9 | Ishtar | 787.6 |
| 10 | Maisan | 830.8 |
| 11 | Ashor | 830.8 |
| 12 | Dijla | 1671.2 |
| 13 | Alfurat | 1671.2 |
| 14 | Akad | 1308.3 |
| 15 | Baghdad governorate | |
| 16 | Erbil | 1449.5 |
| 17 | Uor | 2698 |
| 18 | Salah | 1959.2 |
| 19 | Basra Faihaa | 1103.5 |
| 20 | Zawraa | |
| 21 | Najaf Ashraf | 280 |
| 22 | Diyala hall for protocols | |
| 23 | Karbalaa Muqaddasa | 669.3 |
| 24 | Warkaa | 1517 |
| 25 | Anbar | 853.6 |
| 26 | Media | |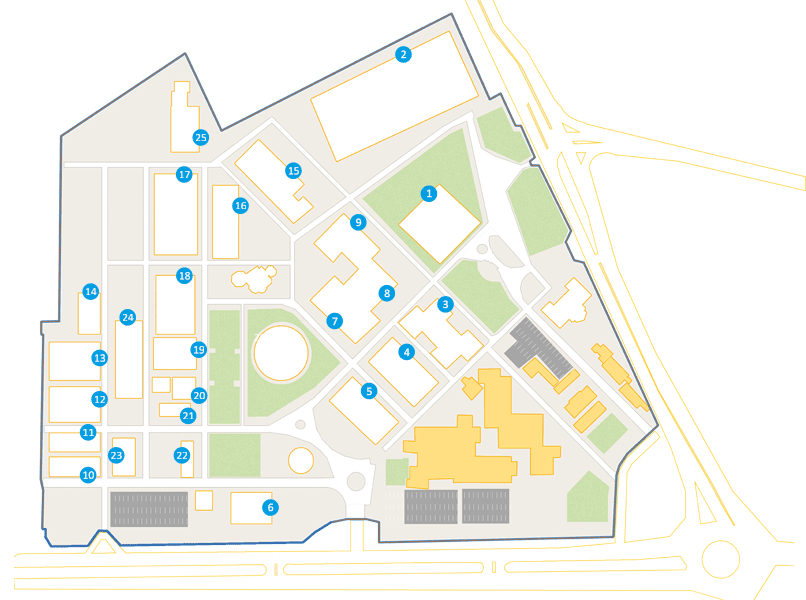 Electronic Booking
To reserve your space at Baghdad International Fair, click on the link below